I went to part of WordCamp because I got tickets and apparently I'm a volunteer…
I went to a business networking session there and met several interesting people. After that, and food truck lunch, I did 90 minutes or so volunteering in their "Happiness Bar" to assist anyone with website problems. (It's a website conference).
WordCamp Sacramento did food truck lunch last year. It isn't a bad idea. Though WordCamp Minneapolis has a catered lunch buffet that is delicious. There's a difference between MN and Sac.
I met a couple guys from a Reno, NV based tech startup doing some really interesting data center server virtualization stuff. Not my area anymore but it was fun to talk to them about what they are doing.
Then driving to visit Catherine. We went to a restaurant in Berkeley called Kiraku. They serve "Japanese Tapas". While Tapas are Spanish this restaurant makes the claim there is a Japanese cuisine that is similar, serving small plates of food with beer or saki. We just had the food.
Both Catherine and I remember driving past a restaurant that claimed to serve Japanese Tapas and we wanted to go there. We looked it up online and this is the place that came up. Except this appeared to be a different restaurant than what we thought.
No matter, the online reviews were amazing.
And it was amazing. Small place. We got there early before opening and put our name on the list. This was fortunate as MANY people put their name on the list after us so we got to go in with the first group.
Food was amazing. Not what I expected. This next part gets long. If you don't want to read a detailed narrative of everything we ate, then see you tomorrow…
We ordered in two batches. They encourage you to order and eat, order and at. So first we ordered 4 things and then 3 things. I believe that when groups of dishes come in like that, they make the individual dishes in the most "appropriate" order. There was thought behind the order in which they fired each dish.
Here's what came out: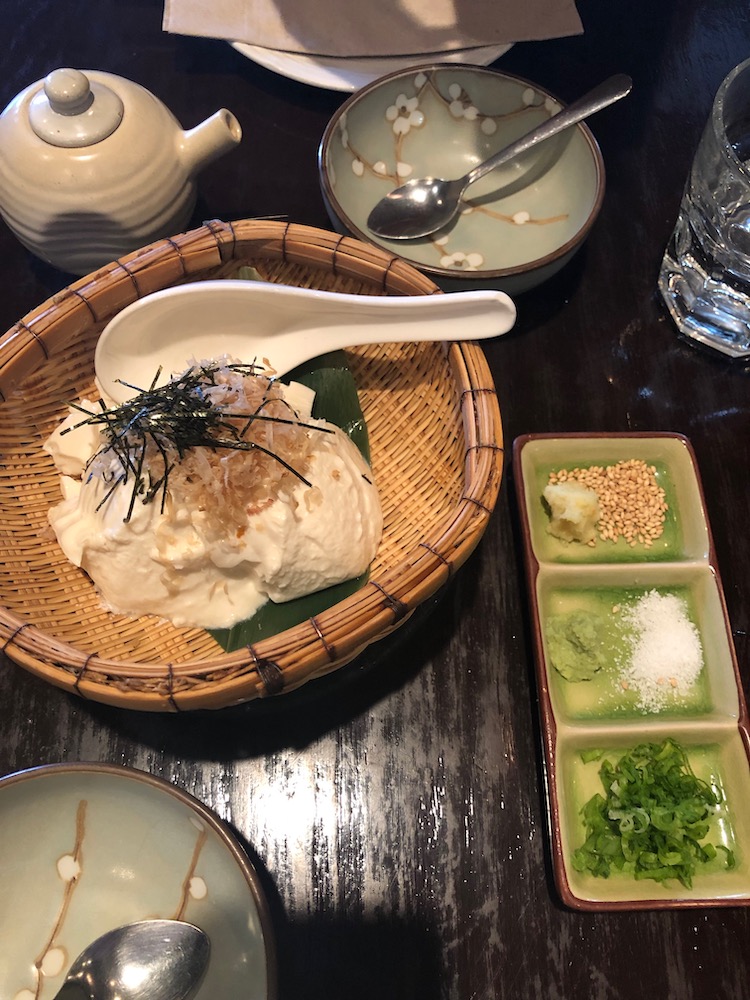 "Homemade Tofu" was served on a leaf in a small wicker basket with a serving spoon. Fancy soy sauce in a small teapot. And a small 3 section tray with minced green onion, salt next to a wasabi mount, and sesame seeds next to a crushed ginger mound. Very elegant presentation and subtle but refreshing flavor.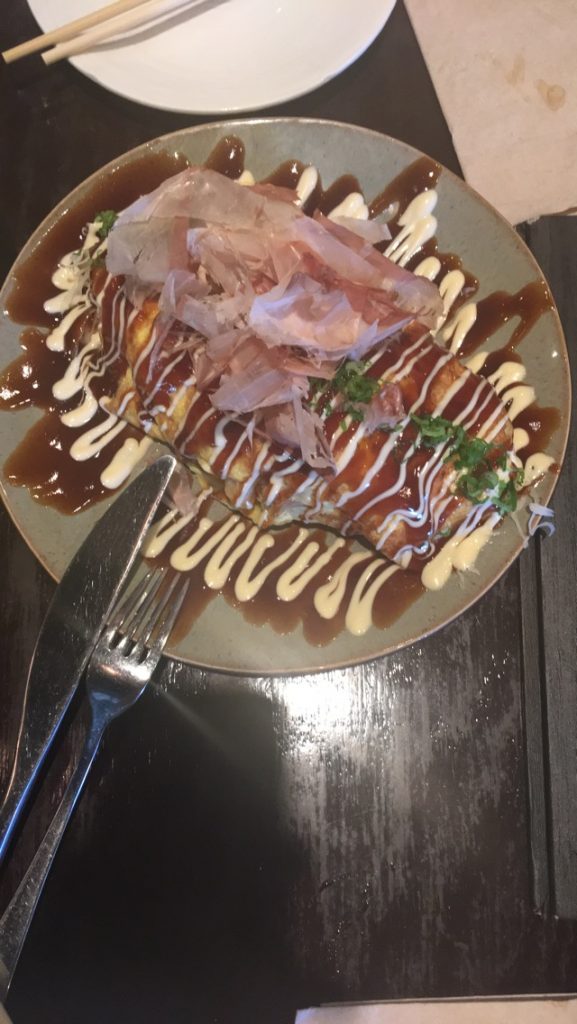 Omelet Salad – A large sauce decorated mound of super thin sheets of egg. Sliced cabbage and pork belly inside and bonito flakes on top. Bonito flakes are thin shaved slices of dried fish. They have a very powerful unami flavor. It was delicious.
Maitaki mushroom tempura – Served in a tiny wicker basket. The Tofu basked was probably medium sized. Served with pepper and a dipping sauce. Subtle and delicious.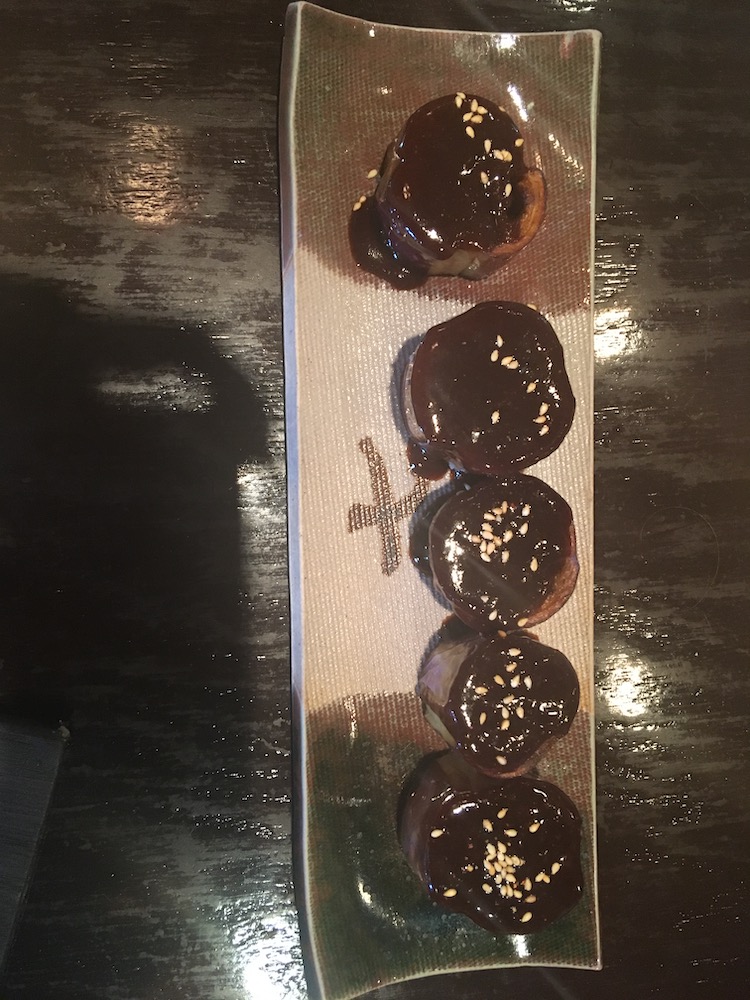 Eggplant with dark miso sauce. It came out as 5 short cylinders of Japanese eggplant (long thin kind) on end with a chocolate colored sauce on it. I almost think the miso sauce had cocoa in it but don't believe it did. Very tasty.
Then we ordered more and we got…
Albacore yuzu ceviche – A small bowl with the tuna / ceviche plus tortilla chips to eat it upon. A little spicy, very tasty.
Wagu beef. We saw someone else getting this and thought the $7 seemed like an awfully good price. It was $7 a piece so we got two. Each piece was two thin slices of wagu on top of molded rice, almost like a sushi presentation. (Or probably exactly like a sushi presentation). The wagu was topped with uni (sea urchin meat). It was delicious. Catherine wasn't into sea urchin so I got to at hers. It's orange. And has a tingly mouth feel.
Lastly, 5 small pieces of grilled fish. They were almost like eating firm delicious butter. Very tender and perfectly cooked. I don't recall what sort of fish it was.
Up until the Wagu I wasn't sure there was going to be enough food. It was all small, as expected. But after the grilled fish it was very satisfying.
And then the dessert menu.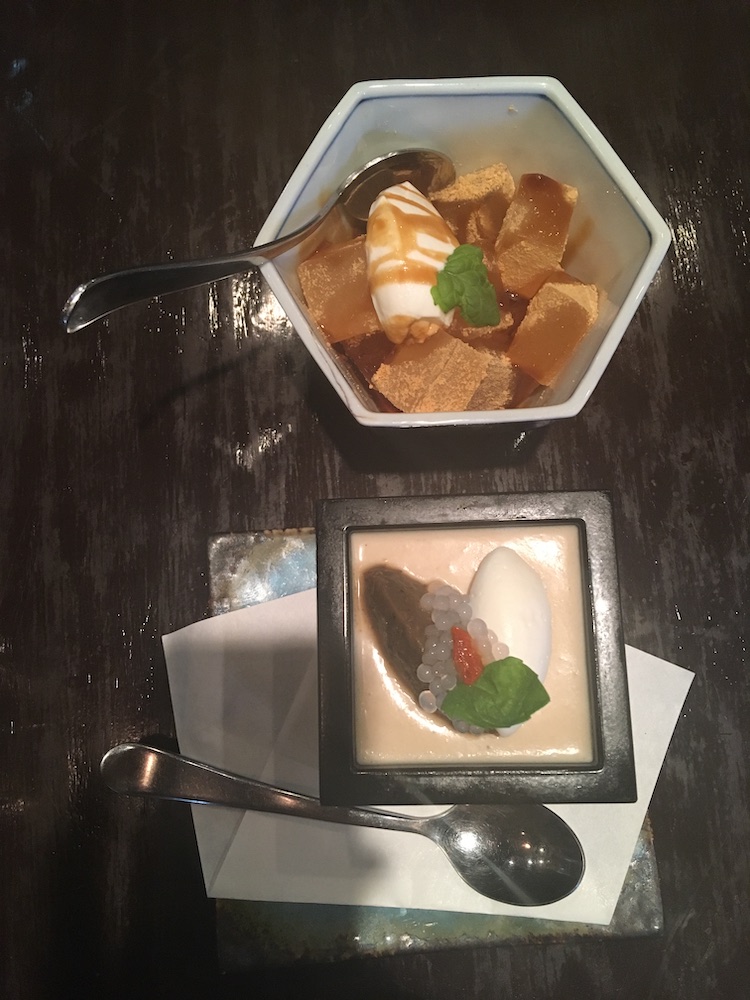 Catherine had "roasted tea blanc-mange". It's a custard(?) served in a small square box with accompaniments that I can't described. A very elegant presentation.
I had the Mochi with "black sugar syrup". I know Mochi from Trader Joes as this little ball of ice cream wrapped in rice cake. Mochi refers to the rice part. This was a bowl of square Mochi rice cakes that were transparent like ice. The black sugar syrup is caramel. The mochi was dusted with cocoa(?). And there was a quenelle of cream on top. The chef is apparently trained in French cuisine.
With tip it was around $100.
Catherine and I walked back to her apartment and I started the drive home.
As I was driving, I realized something about the overall experience of the meal was just making me very happy. The food was VERY subtle compared to what I'm used to. And full of deliciousness. I want to go back.