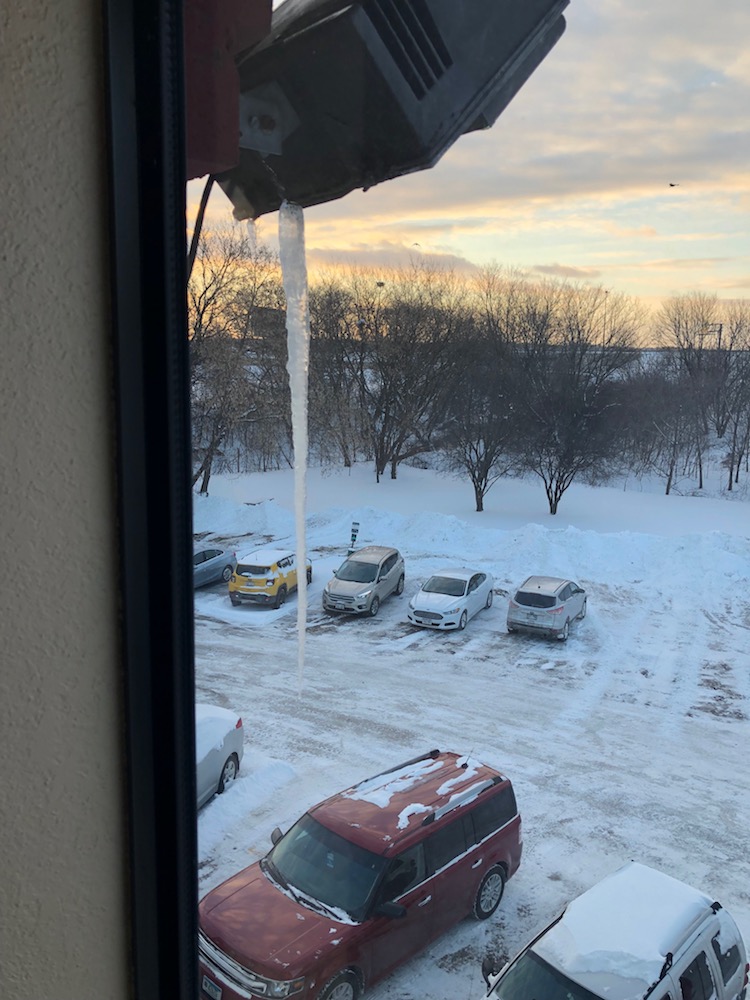 I woke up early and couldn't get back to sleep. We had the curtains open all night to watch the snow and an 18″ long icicle had formed dripping off the bottom of a light outside the window.
We went over to Mayo for pre-surgery appointments and all went well. My girlfriend Chris is having a hip replacement tomorrow and given the pain she has been experiencing walking over the last several years, she is really looking forward to having it done. Recovery will take time but she has been pretty severely handicapped not being able to walk very far.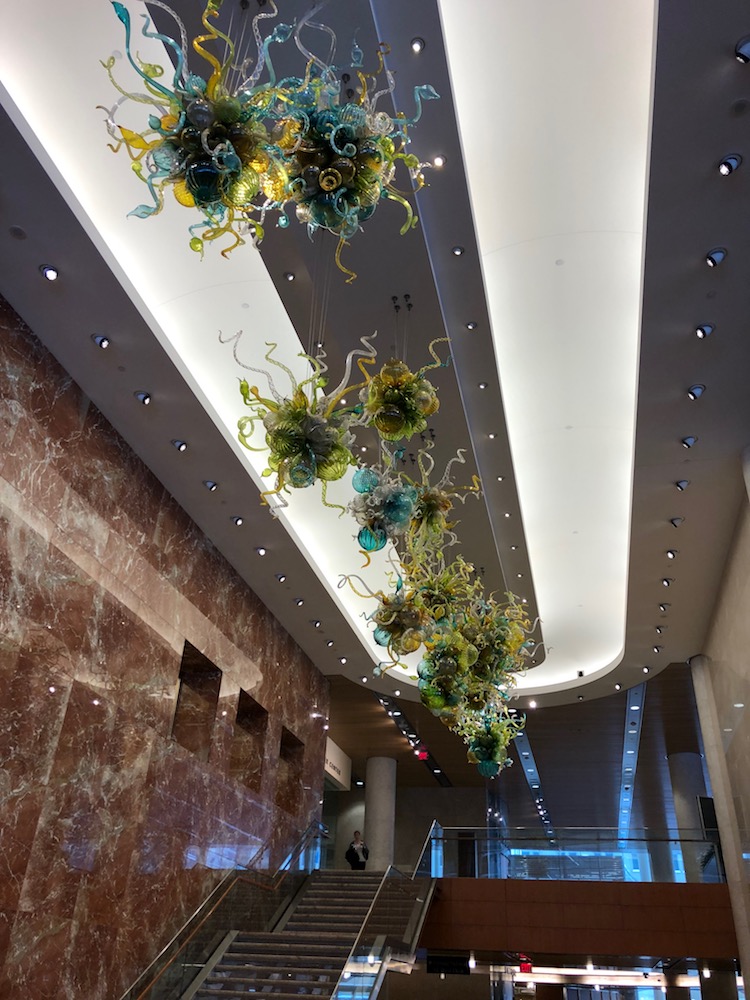 The Mayo Clinic is like a 5-star luxury hotel that happens to be a medical clinic and network of adjacent hospitals. From the marble floors and walls in the common lobby areas to the extra large exam rooms, fancy check in areas, Dale Chihuly chandeliers and other artwork, it doesn't have the appearance of your normal doctor's office. And the main building is 18 floors tall or something like that.
I've had some nerves about the procedure. As far as I can imagine, they do something pretty much equivalent to removing her leg and then re-attaching it with metal parts at the joint. I gather it is pretty routine. Her surgeon is the same who did her knee some years ago. Mayo pioneered many of the techniques used for hip replacement. And everyone is VERY competent here. If there is any medical procedure you ever want done, this feels like the place you can go if your insurance can cover it. Or if you are rich. They have an international airport here for a reason…
After appointments were done, Chris was feeling pretty hungry so I did a quick Yelp restaurant search and found someplace nearby. In good weather and good health it would have been walking distance. But it's around 10 F outside and Chris can't walk far so we drove a couple blocks over. We circled the block a few times looking for good locations and finally settled on a parking ramp about a block away. (Note, in Minnesota they call them Parking Ramps. In California and elsewhere, we call them Parking Garages). We drove in, and up the incline, and started sliding backwards. It was covered but enough snow had been tracked in by other cards that the entrance was pretty slick. So Chris backed up and down into the street and then we saw a handicapped spot on the street and took that since she has the handicap permit for now.
Sliding on ice in cars is not a feature of weather here that excites me but the rest is pretty great so it's ok.
We ate at Chester's Kitchen and Bar. They say they are considered one of Rochester's best restaurants. From menu and reviews it reminded me of The Stillery in Nashville (check it out if you are in Nashville). New American cuisine menu. Sort of high end comfort food.
Chris has the walleye fish and chips. They have a lot of walleye on the menu. And I had the 1/2 roasted rotisserie chicken with asparagus.
And the food was amazing. The waitstaff was very self congratulatory about their food which can make me nervous but they weren't over selling it. The fish was cooked beautifully. The chicken was possibly better than any chicken I've ever had. The meat had flavor and was moist. It was some sort of locally source free range recently happy chickens. It was a large portion of chicken. Seasoning was perfect. Nothing was too salty. Also, mine had no starch. It was chicken and asparagus. That was handy since we were having dessert.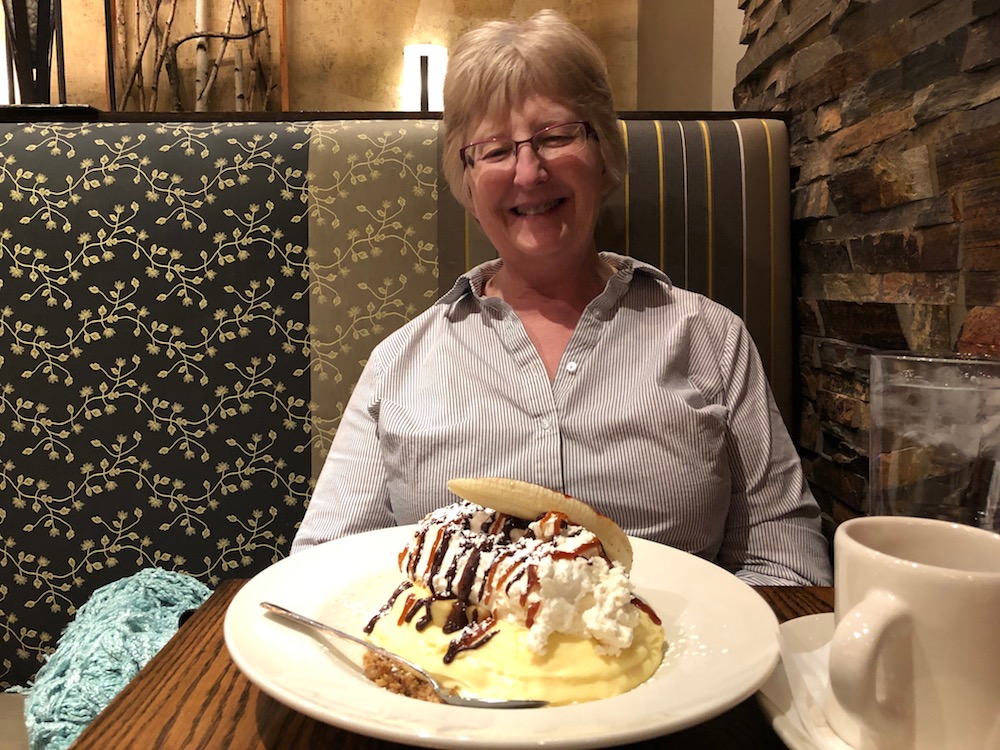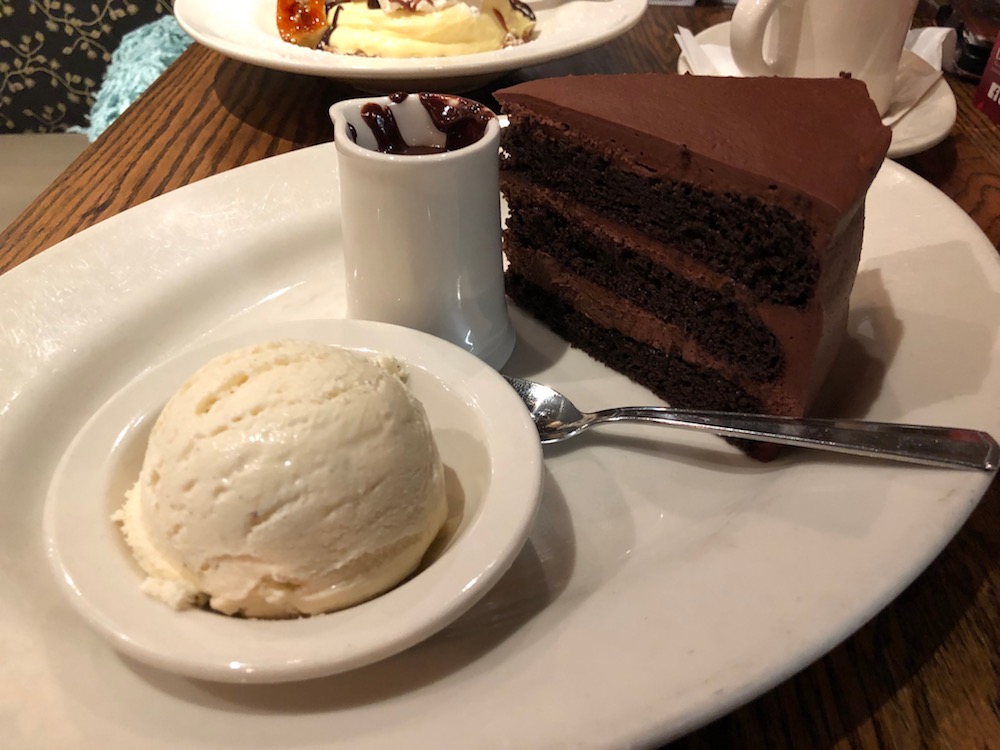 Chris lit up hearing they had banana creme pie and I had the chocolate cake since I always enjoy large slices of cake. The banana creme pie seemed like an enormous deconstructed pie with a crumble on the bottom, enormous portion of banana custard that was not terribly sweet, whipped cream with chocolate and caramel sauce.
My cake looked like about a 1/6th portion of cake. 3 layers. Not too sweet at all. Plus a large scoop of vanilla ice cream and about a 3-4oz portion of chocolate sauce in a small pitcher.
It was more than enough. I expected to feel ill afterwards and I think because nothing was overly sweet it ended up being pretty balanced. Really, it was more food than you should ever eat in a sitting. And I finished all of mine. Chris only got through 1/2 of her dessert though what was left looked like a normal sized portion.
I'd go back. We have to come back in a couple months for a followup appointment. And in June so maybe we'll be back here.
One curiosity about the weather. It's cold here. Sounds like its going to be historically cold. What I find amazing is the temperature predictions. High today as 13F. From now till Wednesday it is going to get colder. But even Tuesday when the sun is up, it is going to keep getting gradually colder until it reaches around -25F. That is the air temperature before windchill. With wind, it might be as cold as -60F.
Don't see that in California, that's for sure.