Today was back to longer drives from Nashville to Hannibal. We passed St Louis and saw the Gateway Arch in the distance again (my girlfriend Chris has gone up in it, I'm not huge on heights, parking is probably a pain, doesn't seem worth a stop for now). There was still lots of corn and the weather was good.
We found some mediocre coffee in the morning reminding us to bring our own coffee next time.
The car has a really cool feature where it will let you know when a tire is getting low and how much air pressure it has RIGHT NOW so you can watch that number gradually drop indicating it is time to stop and get that fixed. It wasn't clear what caused the small hole but around the time the indicator came on we were within a mile of a gas station and a repair place next door. It took 20 minutes and $15 dollars and we were gratefully back on our way.
We stopped at a random BBQ place for late lunch later and were disappointed despite the great reviews on Yelp. BBQ ribs should taste better than what we can do throwing some ribs in the slow cooker with salt and pepper.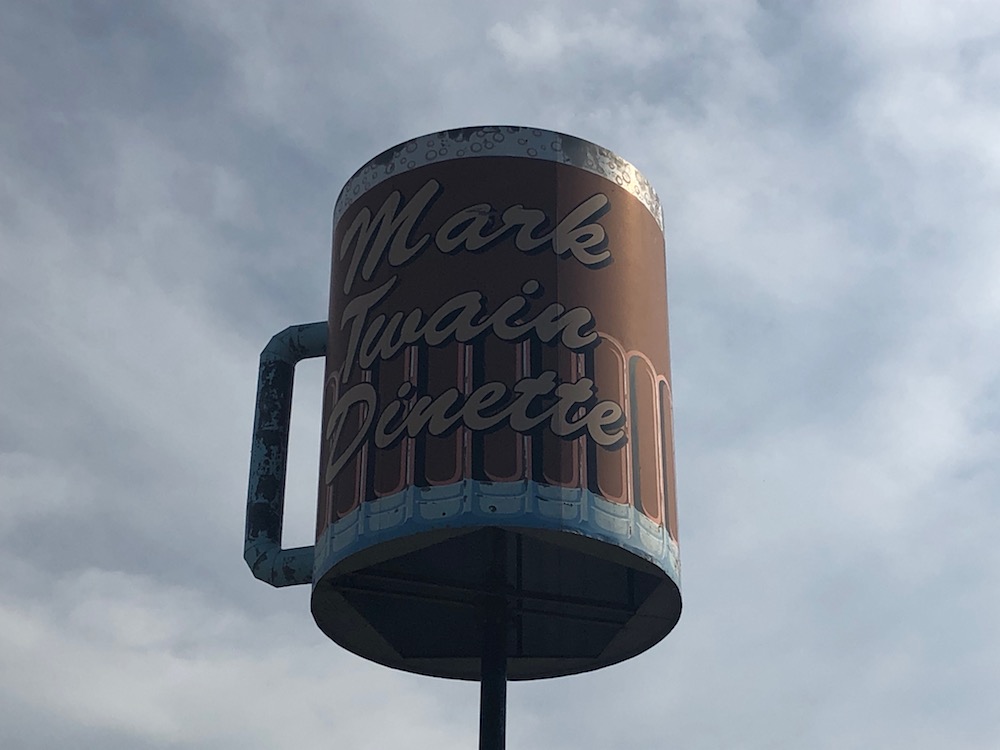 Back in Hannibal we tried out the Mark Twin Dinette and were pleased. It is much better than you might expect. They have good home made root beer. We got their 1/2 foot tall order of onion rings (on a big plastic ring toss pole). They have a one foot version but we thought that would be excessive. Chris had a Made-Rite sandwich and I had a patty melt.
We also tried out the ice cream from the coffee shop next to the hotel and it was pretty good. Mimi's Coffee and Ice Cream looks like a $1M investment was made in design and branding for a little coffee shop in Hannibal. We don't really understand the economics of this. A small gelato there (larger than an Izzy's small) was $2.99. The large looked huge and was $5.99. We would come back if we were coming through here.