We (Mom, StepDad, and I) went over to my apartment to haul stuff to goodwill. This was two small stacks of books and a large quantity of clothes. As I was going through things, there were a lot of clothes from decades ago that are still in good shape though I can't really fit into them. I will probably be able to fit into them by October.  But I have not worn them in one or more decades, I hereby declare that I must not need them anymore. I've been enjoying having fewer things.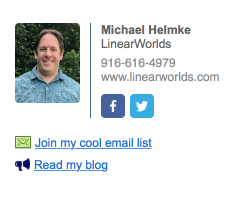 I made a fancy email signature for my business email account (see photo). I used WiseStamp (https://www.wisestamp.com/) and while I looked for free services or to do it myself, it would have been cheaper as far as cost of time to have just signed up for them first.
The goal here is to have one more avenue that drives people to my website and ideally either my email list or blog there. Also this weekend, I've realized how I can run my business blog on a daily schedule and I started planning out what content I need for that.
That means I'll be doing two daily blogs. This one has taught me a lot and I'll be applying some of the same techniques there. The daily version of that blog will be conversational like this one.  That is an easier style for me to write.  Eventually that blog will turn into a private mailing list but I need people signed reading the blog first that I can get to sign up for the list.
I feel good. I sort of miss the suture sticking out of me but it is good progress.