I took a pain pill before bed and slept till around 1:30am and couldn't get back to sleep. took another pill at 3:30 and made it to 7:30 and feel ok.  Along the way I got farther through Season 1 of Westworld and found a nicely laid out article reviewing the separate timelines in the show and how they are presented ambiguously so as to confuse first time viewers.  Spoiler, season 1 intertwines multiple flashbacks and timelines without telling you until the end.  I have a bunch of work to get done today which I'm happy about.   I'm finding, strangely, that I'm not super motivated to write the blog today.  I'm not sure if it is because of too many other things on my mind or other mind tricks.  I need to catch up on at least 1 more past article… my mind doesn't seem to be 100% today.  I wonder if it might be the pain pills.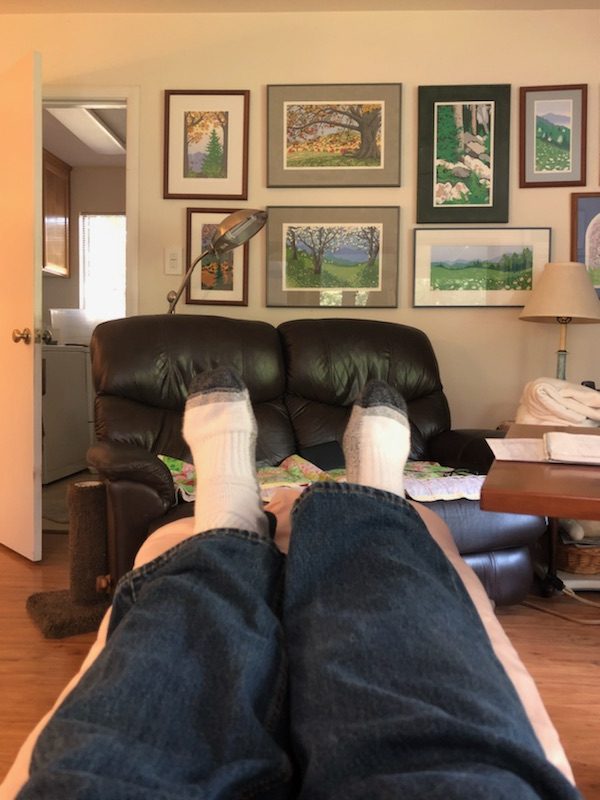 So there are basically two ways I get grouchy:  keeping my legs up and mind not working well.  Maybe I should print out some monkey action figures.
I spent what time I could on client work, getting a new server/hosting environment setup and migrating a website.  The work went slower than I expected, partially due to my mind not being 100% and legs being up frustrating me.  All of this makes me think my situation is giving me a negative mindset.  Not depression per se, but letting my physical and mental limitations get me down.  Dinner was good, finishing off the meatballs and red sauce from yesterday.  Then we drove to the airport to pick up my Girlfriend.  So nice to see her again so soon and she is good at helping me focus on the positive.  We chatted and both were tired so we didn't stay up late.