My girlfriend Chris and I got up early and drove to the Mayo Clinic in Rochester on coffee alone for her pre-op appointment at 7:10am. She is having a knee replacement tomorrow. After the hip replacement in January this is both routine and not routine. At least we know what to expect.
The appointment went well and the surgery is on for tomorrow. We will find out the check in time after 8:15pm per standard Mayo procedures.
We had breakfast at a small cafe Chris found after a previous appointment here and then waited at a local library for the hotel to have a room ready.
After checkin we went to lunch at our favorite restaurant from before her hip surgery: Chester's Kitchen.
I had the same thing I had last time, their amazing roast chicken. Somewhere they are getting special chickens that are raised outside with a healthy diet and happy life. These are the most delicious chickens I've ever eaten in my life. I cannot overstate how good this chicken is. Definitely not Foster Farms.
Chris had the same and we each had a salad.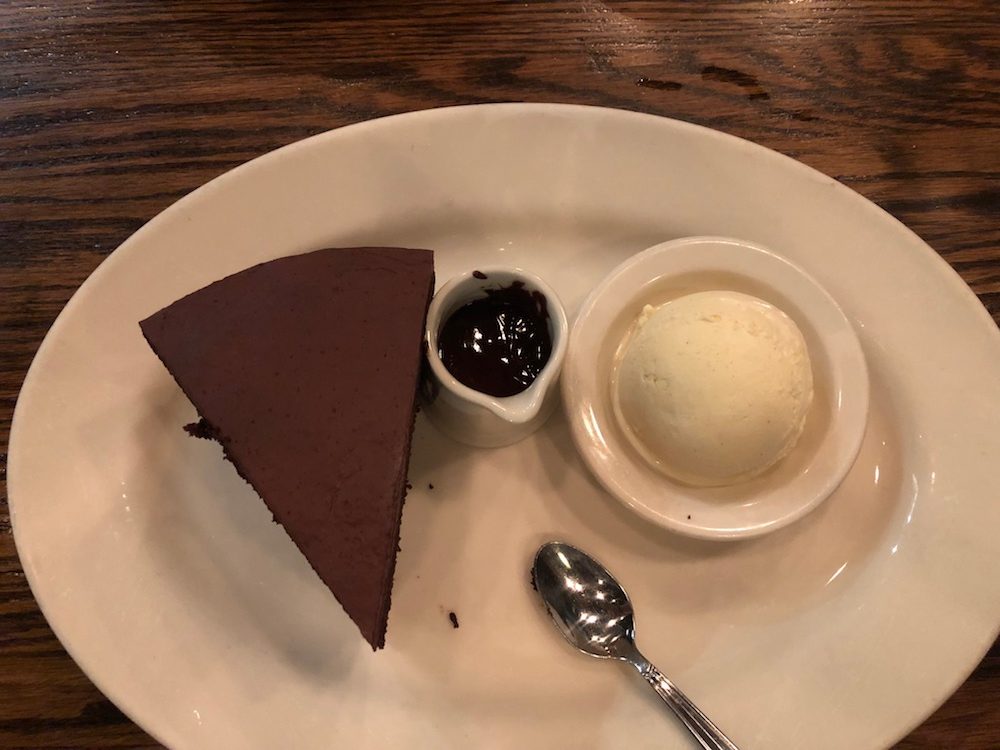 I had the same dessert I enjoyed last time (see picture). The cake is still enormous. That is a full sized scoop of ice cream. And the pot of chocolate sauce probably holds about 1/3 cup. It's crazy big. And the chocolate sauce is bittersweet and the cake is not that sweet either. It's amazing.
Chris' dessert was the coconut cake. It was basically served deconstructed and looked sort of like a strawberry shortcake. Except it was rounds of a not very sweet coconut cake top and bottom. Whipped cream on top. Raspberries. Raspberry sauce. And a large hunk of buttercream frosting between the layers. The frosting wasn't that sweet. So I guess it was basically sweetened butter. Chris' favorite thing.
The chicken and sauce isn't overly salty and cooked moist. The salad was very well made. The dessert wasn't too sweet. Total bill for two with tip was about $77. It's an amazing meal. I'd happily come back over and over (with time to recover in between) and eat the same thing.
Dinner pricing would be a little higher. The chicken then comes served with a large portion of mashed potatoes. For me I'm happy to skip the potatoes and substitute cake instead.
I've eaten at the French Laundry when Thomas Keller was still cooking. Chris and I have eaten at Alinea in Chicago. Two of the best restaurants in the world at various times. Some of the best food I've ever eaten in both experiences.
But sometimes amazing chicken and a huge piece of cake is enough. I look forward to coming back to Chester's.